Basic Invoice Template Created in Word
Dec 6th, 2008 | By
admin
| Category:
Free Document Templates
Of course I send out invoices via email. That's the benefit of working online, you can do most of your communication via email, saving a tree or two hundred. However, for organizational purposes it's nice to have a copy of each invoice, and several of my clients like to print out a hard copy for their records. When tax time rolls around it's nice to have hard copies of things to hand over to your preparer, even if that's yourself.
At first I sat down and created an elaborate invoice with shiny graphics and web 2.0 styling. Then I realized, this isn't a sales page, it's not a website, it's an invoice – a piece of paper. It doesn't need to be shiny, or new, and I don't need to reinvent the wheel to make it look professional.
So, I started over with a basic plain invoice, added our logo, and hit save as. Sure, the shiny graphic Invoice looked great, but to print it out would have been a major ink suck. This invoice serves its purpose, still includes the logo, but doesn't have 100 colors or a lot of big bold extra writing on it.
Right click and Save Target as to download the Word document I'm currently using to invoice clients.
Here's how my blank Invoice looks when I open it up in Word. *Note: I have Word 2007, but I've saved this doc in compatibility mode so that it will open for you in Word 2003.*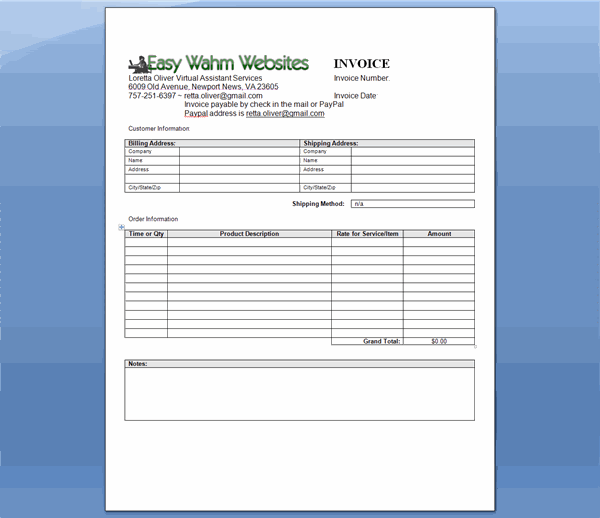 If you're looking for a basic blank invoice template, feel free to borrow mine and just change the logo and details to your own. There's no magical formula here, just a basic bare bones invoice.